SS Go to Orkney: a travelogue
Road trip to Sanday, Orkney, with Snoozie, March 2019
We are modus operandi

We straddle winter and spring

We are unrooted and footloose

We are liminal and subliminal

We will take in sea, sky, land and the air

We will explore locations and situations

We will be sound and we will be echoes

We will document and observe

We will be analogue and digital

We will write and draw

We will make and create

We will talk and we will listen

We will be brave and be brazen

We will hunt and we will gather

We will laugh and we will tussle
We will wander and drift

We will brush and will broil

We will intuit and appreciate

We will connect and discover

We will be outer and inner

We will encourage and question

We will be open and attentive

We will dissect and amalgamate

We will test and we tease

We will be open and explore

We will give and receive

We will seek and will find

We will climb and will fall

We will swim and we will splutter

We are submerged and will emerge
FRIDAY 15 MARCH
First step, feet forward
Train wheezes through mottled lands
Anticipation

With a sense of excitement mingled with a touch of trepidation, my travel companion Snoozie and I arrive at Bristol Temple Meads train station to begin our voyage to the north of the north. We board the direct-to-Edinburgh train and secure our seats for the next seven hours. The carriage is buoyant and crowded with dapper young men and peacock-preened women with feathers in their hair all bound for a spiffing day out at the Cheltenham races. Prosecco is popped and tinnies are cracked. High-jinx hopefuls; hopeful of a win on the horses or each other. We enter into a conversation with an adventurous looking woman of advancing years who introduces herself as Mary Truell and who does not look like she is going to the races. Mary is on her way to visit family in Cheltenham and in what appears at first to be a cat box, sits a homemade cake which I have an overwhelming desire to both see and taste. Sharing tales of our respective journeys, we tell of our intrepid trip and in return she tells of undertaking a ninety-mile walking trip around sites of natural interest in Devon this Summer. We sense a kindred spirit and take her contact details with a vow to keep in touch with progress of our adventures. As Mary and the races cohort depart the train, a gaggle of high-spirited hens, all neon nails and skin too tanned for March keep spirits up further down the carriage. Armed with inflatable cocks named Wanky and Willy poised at the ready for a night face down upon the tiles. My ever sociable and cooperative companion obliges a group photo before they alight dizzily in the Black Country.
And then quiet.
After all this initial excitement is over, we settle into our seats for the journey ahead as the train trundles, chugs, wheezes and moans its way onwards and upwards through the Midlands. Steadily rolling further northbound through the Great British landscape under a typically vague English see-through winter sky. We move through commuter towns and cities as if on a power walk through suburbs and villages, rural and urban terrains, and all the hinterlands in between. We pass through these inter-zones in a matter of moments in continual motion all entwined by the railway tracks. The window as a cinema screening non-stop vignettes, and quick-fire glimpses and glances of Britain, at high speed and in high definition. Albeit through the rather grimy train window.
We journey our way through the Great British outback of abandoned former industrial sites, builders yards, factories, rusting shipping containers in primary red, green, and yellow, wastelands, piles of pallets in warehouse enclosures, machinery and diggers, pipes and tunnels, crates and skips, fences and railings, scrublands and rubbish dumps with gulls circling overhead for slim pickings. We veer by canals, with people walking their dogs past pristine holiday barges next to ramshackle river boats with rooftop gardens and vacant occupants. Past all shapes and sizes of houses, high rise flats, prefabs and bungalows with net curtains concealing domestic bliss. Past concrete backyards and gardens with borders, privet hedges, bird tables, summer houses, wooden gazebos, shabby sheds and greenhouses, and a make-shift swimming pool filled with leaves. The occasional solar panelled roof and the odd England flag hanging flaccidly in the still air. We traverse a bricolage of waterways; rivers and streams, dykes and ditches, puddles of stagnant water, lakes, low lying marshlands, and redundant water towers reminiscent of Bernd and Hilla Bechers' photographic typologies of these industrial and architectural feats. We pass through tunnels cut into hillsides, under footbridges, past playgrounds and out-of-service rusty railway carriages. By dumping grounds with miscellaneous debris and fading fast-food litter, past nature reserves with dead-wood hedges, with brown wintered buddleia sprouting ubiquitously from every crack, crevice and crinkle as we go.
Back inside the train, we are not aboard the quiet carriage. Passengers chatter away on their phones with breaking news about when they'll be home and what's for dinner. My companion scrolls idly through her own phone checking emails and emitting the occasional grumble. My own stays firmly in my bag, my Out Of Office turned on. I'm checking out for this trip, i'm offline, off grid. A ring tone which we think, but aren't certain, is from the Godfather film repeats and sticks in our heads like an unrelenting ear worm.
"There's enough blue in the sky to make a sailors trousers"
my companion remarks which I think is quite charming. A lonely woman strikes up conversation with anyone kind enough to listen to her personal woes. We keep quiet and make to appear invisible. Hungry, we unwrap the semi-squashed contents of our bags for a train picnic minus the blanket. We devour a sweet potato frittata, with strong cheddar and juicy tomatoes cut up with my companions antique silver pen knife on rye bread and it's delicious. For afters we drip CBD oil under our tongues, suck on nicotine mints and sneak occasional puffs on an e-cigarette exhaling the vapour down towards the floor in a bid to remain undetected.
My eyes are drawn back outside through the frame of my own personal film screen. The landscape changes from rural to urban and all the in between spaces and places and back around again in a momentary flash. And as we swiftly cover ground through the interconnected counties and shires the smallness of this island really comes to light.
The passing patchwork of fallow fields with their hedged boundaries hold huge tubular straw bales wrapped in kinky black plastic and the odd hot pink one dotted amongst them. A solitary dark horse meanders gracefully as a ballet dancer in a distant meadow. We pass Peartree Station without stopping. By deserted allotment plots with rickety sheds and the remainder of last years vegetables rotting into mulch. Past distinctive silver birch trees with torn weathered plastic hanging lithely from their branches and bright blue plastic netting strewn all along the edges of the railway tracks that stands out amid the nondescript brown winter palette. We pass by disused railway buildings and veer under bridges with illegible graffiti scrawled covertly under the cover of night. As we draw closer to the next big city, workmen in fluorescent matching suits look highly visible beside the rail tracks. The Derbyshire linemen are still on the line.
Emerging out the other side of the city, the tracks steer their way past graveyards, and lock-up garages concealing jumbled old junk, knackered old cars and hidden contraband. Rows of caravans and motorhomes stand for sale in a yard next to a fish & chip shop that opens at 4. A rowing boat sits upturned on a shed roof. Red bricked box houses with satellite dishes and aerials, pigeons perched on chimney pots, white plastic-clad conservatories contain rarely used exercise equipment and a wilting houseplant that's seen better days. We move past a boules club with a pitch perfect green lawn. Finely dressed men drag trolleys across small grassy green mounds filled with sand with flags that mark the G-spot. Approaching Chesterfield past trading estates and used car showrooms, underpasses and flyovers, mega supermarkets, shopping malls, Premier Inns, Amazon warehouses, B&Q and Toys R Us. Out-of-town shopping hell-zones all the same as the last and the same as the next. Past level crossings and car parks we whizz and zoom by train platforms without stopping with passengers whiling away the time with their heads in their phones in their own virtual worlds. Sheffield's inner city tower blocks with their hovering balconies and suburban back gardens with trampolines, swings and washing waving on the line back onto the rail tracks separated by rickety fences and wastelands of detritus, brambles and unruly winter weeds. Onwards we go under brick bridges, flyovers and slip roads, we pass train signaling lights, ill-boding barbed wire fencing, residential streets and lamp posts not yet switched on by the night. Passing by empty playing fields with goal posts and no players, and shabby, shady looking pubs, offices, and warehouse depots with delivery trucks waiting for their next early morning run.
Back on board the train, we idle the time away playing word games…...
undulating train speeding quietly tracks steadily moves rumbustiously water rippling sea
paddling madly samantha excitedly tsunami glistens passionately banana tumoulously afright gathered softly castles disintegrating sand
Traversing the country towards the North East now, the Peak District comes into view poking up through the clouds to the west - or it might just be the clouds themselves with the peaks in my imagination instead. The further north we climb, the more remote and unpopulated the landscape, the brighter the sun and the bluer the sky becomes. So much for it's grim up north. Heading through Yorkshire, through the hills and dales, the rolling, undulating hills nestle a medieval village church nestled into its curves, and a field full of cows grazing, electric pylons criss crossing fields with intermittent birds perching on the wires. We pass all kinds of deciduous trees that I don't recognise with their winter clothes still on and would likely still struggle to with the summer ones on too. A row of tall skinny trees line dance on the near horizon, hibernating brambles, and fresh new blossom that I hanker to smell are just out of reach and remote villages move in and out of sight. There is an abundance of farms with stables, and barns, livestock pens, farmhouses, and ruined out-buildings that are no longer in use except by wild creatures and critters revelling in their new territory. A scattering of sheep move nimbly as white low-lying clouds across the hillside, blurred by the motion of the train. A solitary oak tree in the middle of a field all naked and cold has seen it all before and will see it all again. Rapidly skimming through the landscape now, the North York Moors are occasionally visible to the east as we approach oh my Darlington. Past a steel merchants red-brick warehouse we traverse over to the east of the isle and over fog on the Tyne we go. The sun streaming in through the train windows as it begins its descent towards the distant darkening horizon. Steadily up we go, along the Northumberland coast and through the ever so picturesque Berwick on Tweed resplendent in the slowly retreating dappled light. Now on the fast approach into Scotland, we cross the border from In-ger-land at Marshall Meadows. The trainline the only thing making this kingdom united. The train track skims the edges of the glistening blue-green waters of the Scottish coastline as we move towards Edinburgh station. And as the sun shivers the daylight away, we emerge at the first stop on our travels we celebrate silently.
On alighting the train we find ourselves in a much cooler climate than when we boarded and make for our digs. After a rest (me) and a bath (her), we wander our way down Leith Road in search of food and some local nightlife. Like animals in the zoo in reverse, taking a punt on a pub with ornate Victorian floor-to-ceiling tiles spotted through the window. It's Friday night and spirits are both high and flowing and an enthusiastic young covers band play late 90's anthems in the corner. We move a couple of chairs to sit and watch the people as much as the band, and are met with immediate hostility from a gruff and not unintimidating Scotsman about the health and safety idiocy of our positioning of said chairs. We smile apologetically, sheepishly moving them out of the way but he does not relent, simultaneously tutting, glaring and rolling his eyes at us for quite some time. It's a lively crowd and my companion takes to the dancefloor joined by a friendly but definitely edgy and well-on-the-way fellow dancer who spins her around like a whirligig. I sit back and observe sipping my soft drink like a southern nancy and feel as if i'm in a scene from Trainspotting. Hitting a wall of tiredness I drag my companion away, much to her dismay, and we scoot off away and to bed before the atmosphere shifts and our real-life Begbie turns, after one dram too many.
----
SATURDAY 16 MARCH

Despite the snow fall
Like fearless adventurers
We wander and roam

We awake early with determined spirits and adventure in mind and pull back the curtains to discover feral flutters of snowflakes falling wayward from the sky. Slightly dismayed but not to be deterred, we make haste for Edinburgh station stopping for a middle class version of a full Scottish breakfast with avocado to fuel the days journey, half soaked already as we devour it. We take a short hop on the train outside of the city to North Queensferry station which we've been told is a good hitchhiking spot on the nearby Forth Bridge Road. The snow has now transformed into a light and constant sleet but we don our hoods and continue boldly on. Walking up and down the hilly roads that run alongside the Firth of Forth estuary opening up into the North Sea and Lothian coast we head for our road to hunt down a standing spot.

We clamber ourselves and our cases up some stairs, cursing the heavy camera equipment inside, and arrive at our spot on the map; our destination to the north of all norths of the Isle. To our delight as the light sleet has now become more than moderate, there is an abandoned bus shelter and we are grateful to just stand in the dry. We try to roll cigarettes with wet hands with marginal success. After some time with our thumbs poised and ready, we realise to our dismay that no cars have passed as we then a spot road sign telling that this side of the road is actually closed. And things were going so well.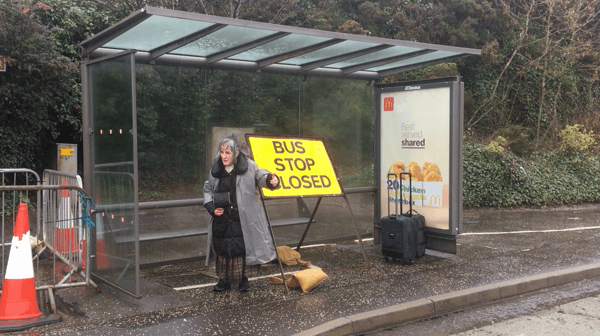 We walk on to seek out a new safe place to stand and happen upon a bemused couple who direct us to a slip road entrance to the M90. We trek on to find our new tip off spot with the rain driving down hard now. We pull on our gloves, tighten our hoods and stick our thumbs firmly out for passing vehicles along the way as we walk. After what feels like an eternity but in reality is probably about half an hour, we reach the slip road. By which point we have now walked several miles. Our spirits are beginning to become as resoundingly dampened as our beings. We're soaked to the skin with numb fingers and toes as we hover under a flacid umbrella on the roadside like two wet bedraggled selkies with suitcases. We look desperately, hopefully into the faces of passing drivers to no avail. We conclude that we do not make for an appealing pick up. A bus comes up the road towards us, we flag it down and to our joy it pulls over - only narrowly missing my companion in doing so. We climb aboard. "Take us to wherever you're going" we say.

We are turfed out at Inverkeithing station weighing half our body weight more in the water carried in our bags and our clothes. Our fingers, toes and noses are stinging, our belongings sodden. Soaked but still not quite beaten we plan our next move with the help of a train attendant who clearly feels a bit sorry for us. The following short 50 minute train journey to Perth only just begins to thaw us out; the cold and wet set into our bones, our skin excretes water for what feels like far too long. We shed our soaked layers, draping them across the seats and survey the sorry scenes of our pockets and bags; everything is wet.

In Perth we hole up in the station hotel bar-lounge and continue our wetness recovery while waiting for our next train. We change our socks, and grumpily sip tepid vending machine coffee and thumb through The Sun newspaper that's on the table all with a rather inappropriate vengaboys summer holiday soundtrack playing loudly through the tinny speakers. Significantly drier now but still damp and smelling increasingly musty, we board the small two-carriage train bound for Inverness. Another hen-do shares our carriage as if we're collecting them upon our journey. As we move further north, the landscape becomes more and more rugged with less sign of human life for longer stretches of time. People instead replaced by spans of evergreen trees intermingled with their naked deciduous siblings. As the temperature outside declines the further north we go, the more the snow takes hold settling like a thin layer of icing sugar sieved across a frosted cake. The Cairngorm mountain range begins to come into view. This vast national park resplendent today in a white wedding veil ready for the aisle to go with the cake. We neither go up them as men hell bent on a mission do, or deep inside the bowels of them as Nan Shepherd did. Instead we skirt around their lengthy base to the west admiring their boundless form from the warmth. Indeed Shepherds idea of going into the mountain and not just up it resonates with the task we have set ourselves and the journey we are currently ourselves on.
"Yet often the mountain gives itself most completely when I have no destination,
when I reach nowhere in particular, but have gone out merely to be with the
mountain as one visits a friend with no intention but to be with him." Nan Shepherd



The hills and valleys, lowlands and highlands of all shapes, sizes are far reaching now. I try to identify what is a strath and what is a glen uncertain of their differences and doubtful i'm getting it right. I pick out the different bodies of water within the mountain's curves, the onward journeying rivers and streams, the relative stillness of lakes, ponds, ditches, marshes, and wetlands and think of ones body as water commingled with them. These waterways create lacerations in the whiteness of this undulating landscape like a cartologist at work on a blank piece of paper sketching out a new world, or a sculptor carving and moulding a new expansive topography, or a filmmaker weaving together a stop-motion animation of Scotland for my eyes only. At Inverness in the halflight, smelling rather like old wet dogs, we wait for our final train to take us to our summit. On board the train accompanied by yet another hen do, we strike up conversation with John from Scunthorpe who has a face full of stories. He tells that his grandparents were from Thurso. A family of pickers; his grandmother who bore 13 children picked herrings while his Grandfather picked ice. I covertly whip out my sound recorder under the table as I sense he has many more tales to tell and my companion obligingly draws them out of him.


Having stocked up on food during one of our many connections, we masquerade a fine-dining experience as if we're on the Orient express. Once we've located the penknife.


A folk song about pockets…...
So many pockets, many pockets has she
Oh so many pockets but where can it be?
Pockets in her jacket and pockets in her bag
Pockets within pockets, it's driving her mad
Rummaging in her pockets, she rummages all day
Will she ever find it or has it gone astray
Where are my glasses and where is my phone
Where's my silver penknife and my special gemstone
Oh darn i've really lost it, bloody lost it for good
Never gonna find it there's no likelihood
'Course it's in your pockets, it usually is
Check one of your many pockets don't get in a tizz
Oh here are my glasses and here is my phone
Here's my silver penknife and my special gemstone
I knew that i'd find them, I usually do
Just in which bloody pocket, if only I knew
With the sun now gone for the day, and the snow thinning out, the convex moon waxes in the darkening coal-black sky as we draw close to Spring equinox in just a few days. The single track train cradles the coastline taking us through innumerable tiny out-posts. Some with no more than a short platform or bus stop shelter, and all but invisible in the dim obscurity of night. From my window, the sea is mostly indistinguishable from the sky, and from the other side of the carriage the sky from the land. With hardly any light pollution, 'out there' is swathed in an impenetrable charcoal cloak and one can only imagine what Arpafeelie is like beneath it. And Duncanston, Alness, Invergordan and the Cromerty Firth. The expanse of Loch Fleet whose slate waters we catch only glimpses of in the moon licked ripples of its surface. We continue this four hour journey through the dark and into the night in low tones passing by Golspie, Gartymore and Badbae and the request stop of Pitmaduthy without stopping. A quick hop off the train at Lybster for a welcome cigarette while we wait for a train passing in the other direction. Finally we pull into Thurso at the end of a day that has felt more like many days, so full of adventure, trial and tribulation it has been. With nothing to do but sit, watch, see and be, train travel is such the best way to go and I only wish I could have seen the landscape unfold in daylight instead of just in my minds eye.
SUNDAY 17 MARCH


To the Islands we go!
Hello hopeful blue skies
Fatigue in our eyes


We wake early and weary in our hotel in Thurso for a short trip up the road for the 9am ferry at Scrabster. Tired, groggy and grumpy we eat a soggy hotel breakfast and have an inconsequential bicker about nothing important. A friendly local cabby drives us to the port which is suspiciously quiet and we quickly realise the crossing is not until midday (my mistake). We call back our cabby who turns around to takes us back to our hotel and we crawl back into our room for a bonus nap with a Murder She Wrote lullaby on the telly. After a brief snooze and a deja-vu return trip to the port we finally board the ferry to take us to Orkney! The vast boat with only a handful of passengers on board thumps its way out of the harbour into the open seas. The rain has temporarily ceased yet the wind picks up it's pace. Ample, plump white stratocumulus decorates the sky and dramatic cutaways reveal swathes of light bright bubbling blue behind. Out on the deck, the engine bellows through the choppy sea whipping up miniscule bubbles of seaspray which I feel on my cheeks and taste on my lips like salty champagne. I find the motion of the ferry - the waves slapping loudly against its metal sides, and the horizon ascending and descending like a rollercoaster through the window, surprisingly comforting.

As we move further away from the mainland towards the islands of Orkney, it feels we are steadily entering a no man's land where no man lives. The first island we pass is Hoy - an imposing sandstone island rising up out of the blue, standing alone and spectacular. With just a few hundred inhabitants Hoy is the second largest of the Orkney archipelago. It is a prince of cliffs with magnificent and voluptuous, rock stratum in layered vivid hues of rusted orange and earthen red like an amalgam of crushed metal gleaming in the intermittent sunlight. A sea stack known as The Old Man of Hoy stands tall and alone only marginally away from the cliff yet as if it is making to escape the confines of island life.

We arrive into the port of Stromness on Orkney Mainland and are instantly hit by the whipping winds and drizzly rain. A local bus drives us past a cluster of standing stones on the edge of a loch en route into Kirkwall as the ominous rain clouds turn the sky steadily greyer. I am immediately struck and awed by how desolate and deep, isolated and expansive it is here.The low lying land and distinct lack of trees means you can see the island's form and edges to the sea from almost every direction. I find myself drawn to places where beauty, charm and wonder must be attentively sought out in the secluded crevices and shady undergrowth. I am pleased to finally be here.

We board our last leg of transport as the daylight retreats. Three days after we set off on our journey our tiny wee ferry draws into the tiny wee harbour at Sanday - our final destination. Faded yet jubilant we have finally arrived and our hosts Rosey and Brendon meet us off the boat and gather us up into their car to head for home.

----
MONDAY 18 MARCH

Meandering stroll
Step by foot the sharp wind soothes
No need to shatter
I wake late, dozing and gazing blearily in a lazy haze. Ship-shape sharp skies and shimmering seas at high tide ebb and flow outside my bedroom window. A picture postcard without even getting out of bed. Green moss gathers on the slanted tiled roof of the tumbling outbuilding where flocks of birds meet to chatter in Orcadian tongues. A languorous morning is in order as we begin to recover from our epic journey and a sense of calm, peace and quiet sets in, and a slower pace is welcome. Far away from the hustle of mainland life we begin to shed our city skin, our responsibilities and commitments on hold.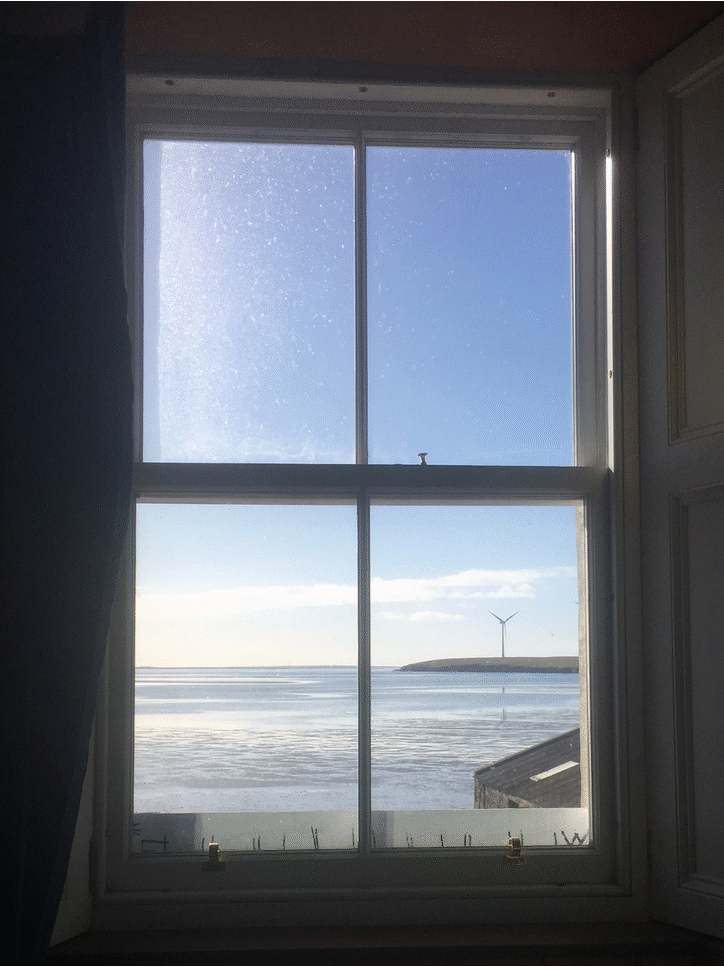 Stove Farm stands solitary on the rim on the Southern coastline of Sanday which is the largest of the North Isles of Orkney with a population of around 500. Occupied by my travel companions childhood friend, the charmingly ramshackle old farmhouse holds a patchwork of rustic artistry inside and out. Every inch from floor to ceiling covered with curios, artwork, ephemera, found things and memories. Every bit an artists home with so much to look at and discover without even going anywhere. After a late lunch I head out for a solitary walk and some much needed alone time, to tread the Islands ground for the first time and undertake my first mission to discover some selkies. After encountering seals whilst swimming off Lundy last year I have dreamt of meeting these slinky, inquisitive creatures again. So widespread across the Orkney islands and Sanday itself I am led to believe it is impossible not to cross paths with them here. The Orkney islands are rich in tales and lore of the shape-shifting selkies (or silkies or seal-folk as they can also be known) who shed their skins to metamorphosise into handsome, wily human-folk capable of all manner of coercive escapades. One well-known tale is the traditional, much covered folk ballad The Great Silkie of Sule Skerry which tells the tragi-mournful tale of a young woman's encounter with one of these mythical creatures resembling a seal in the water and assumes human form on land. One dark night a selkie appears at the foot of her bed, and the tale swiftly plays out via a series of woeful misdemeanours whereby a child is born, a marriage is promised that never manifests and a marriage to a different man occurs. Later, the child is kidnapped by its metamorphosing father and taken to lead a new life in the waters. The woman's husband, a fisherman, harpoons them both to death and as with so many folk tales, the woman is forlorn with grief until the end of time.

"A splash, a sinuous ripple….eyes looking at us from the sea...a Selkie!"


Our hosts have directed me to a common selkie spot nearby, but I don't take it in and immediately take a wrong turn throwing me off track. Uncertain of Orcadian byway etiquette I venture cautiously off road up a lane and into a muddy field, trying to make for the coastline but I cannot find my way down to the sea from the banks. So back to the road I go, taking in the quiet, bleakly peaceful, mostly treeless barren-ish landscape that feels ancient and unpretentious with only a scattering of buildings, abandoned houses, and former crofts tumbling in ruins. Sanday has only a few main roads that run through it, and the landform, whilst undulating, is relatively flat. The body and structure of the island rolls out around me and I am struck by the forever blue skies, and the faint wind making a welcoming host. Enveloped by the expansiveness of the place stretching out and beyond, it is as if there are no edges to the land, sea and sky. I barely see a car pass by or any humans. After some time, I venture up a lane through a field brimming with hopping rabbits and spot a very still one, all milky eyed and shivering in its final myxy throes. My destination some small wind turbines creating power for nearby dwellings as epic larger ones for the grid are visible further afield on the perimeter of the island standing observant as watchmen. I recline on the soft grassy mounds underneath one and tune into the rhythmic and hypnotic voom, voom, voom of it's rotations. I gaze absentmindedly over the pale gossamer clouds sauntering slowly by and close my eyes, the sun flickering in orange and red through my eyelids. A cluster of Stratocumulus hover in unison above the skyline seemingly unmoving.
Continuing on, I approach a lane leading down to the coastline. Hopeful this will be selkie territory, I walk down past dozens of curious cows who follow me suspiciously with their hefty bodies and wide glassy eyes all the way. Entering the beach via low-lying sand dunes with delicate sand-grass swishing in the breeze, I encounter a long, stretching sandy beach strewn with blackened driftwood splinters and know that this is no selkie haunt. As the sun starts to withdraw towards the horizon, I make my way along the beach to a distant path and walk down the narrow lane past a cow barn set in a small holding. Intermittent swathes of swifts, swallows or starlings (I never know the difference) head in for the night like a flurry of bees creating a majestic twittering cacophony that echoes around the barns metal walls like a speaker and out onto the path.

The sun has rapidly hastened it's descent now, painting the skies in burnt orange brush strokes. Flocks of greylag geese shift together through the sky with their necks long as a finger pointing out the direction to roost in the gloaming. I realise i've been out roaming all afternoon and only half certain I know the way back, so make for the main road and pick up my leisurely pace as it quickly darkens. No sooner do I ponder the option of sticking my thumb out, than the first car i've seen for some time approaches behind me, and slows down to offer me a lift. I can't remember the exact road or know the address but being a small island community the driver of course knows our hosts who he refers to as 'the artists' mumbling something about their 'weird art'. Originally from the north of England he tells that he moved here with his son's family over ten years ago to get away from all 'the trouble' and I don't' ask what he means by this. He continues that his grandsons are terrors who will as good as steal from or rape you to which I express a small, nervous yet disheatened laugh as is so inbuilt to do.


As the bird whitters
As the wind whistles
As the branch withers
As the dying rabbit whimpers
As the selkie's whiskers
Orkney's stories whisper
----
TUESDAY 19 MARCH

Emerge from a shell
Tantalising tentacles
Touch the sky slightly
Another languid morning staring endlessly at the seas ceaseless activities through my bedroom window. The day as grey, white and brown as day-old mashed potato left out on the side. After breakfast, we hoik the hefty bolex camera out and test winding exposed film onto it with our eyes closed, feeling its intricacies in our fingers and becoming intimate with its mechanics in preparation for the real thing in pitch darkness. The sky is persistently overcast and showing no sign of relenting which means there will be no filming today as our antiquated film stock needs sunlight or at least a certain level of brightness.
A morning then for discovery - for me at least, as my companion having been here many times before has seen it all before and instead opts for the warmth of the house, shooting the breeze with her friend as she steadily crotchets a blanket of envy. I swallow down a few little mushrooms to enhance my day and venture outside to explore the grounds of this former farm where I discover dilapidated and now roofless former barns and buildings with glassless windows beautifully framing the vast open skies beyond. It's various outbuildings are filled to the brim with all sorts of invaluable junk one finds oneself gathering when space isn't an issue. It will all come in useful someday. Hoarders ephemera renewed and rehashed into new forms. An assemblage of miscellaneous flotsam and jetsam, buoys, driftwood, fishing debris, old bits of farm machinery and all manner of context-specific found objects transform the gardens and grounds into an art brut installation. A feature totem pole encrusted with treasure stands front and centre. Stove Farm reestablished as an artists' home and sanctuary re-named by its inhabitants as '
Gardemeles
' with Fluffy the white legged chicken, hungrily pecking around for worms.
With no rules to speak of on the island, or at least no presence to make sure they're adhered to, our hosts kindly let me drive their car which appeals to my innate, rule-breaking spirit. The rusty old red car sounds like a tractor and with no third gear, it crunches and creaks its way noisily around the quiet roads as I put my foot down. As the occasional car infrequently passes the other way, the drivers wave and we quickly pick up that it is only polite to wave back in response. Everyone knows everyone here. We head to the community re-use shop for a good old rummage through other peoples rejects, picking up a couple of books and a scarf before driving onto Kettletoft a renowned selkie spot and one of the main settlements on the island. The old pier and former fishing port now houses the island's hotel and pub overlooking the harbour. This is one of the spots where selkies are known to frequent and we peer over walls, clambering down onto the rocks in anticipation, but alas, to my disappointment there are none to be seen on this wild blustering day. We are at the beck and call of the elements here and they are not to be reckoned with today. There is little shelter from the inimitable wind and I feel windswept and alive, and wonder if the mushrooms I had forgotten that I consumed earlier make the day feel all the more visceral.
----
WEDNESDAY 20 MARCH

Day and night tussle
Submerged in whetted waters
Equilibrium

I awake to the sound of my alarm going off for sunrise and crawl across to the window briefly peeking through the curtains to catch a glimpse of the night turning into day and swiftly crawl back into bed again. At a much more realistic time, I rise and venture outside into the grounds of Stove Farm to hunt about for some materials to make an offering for the new season today brings with it. I am excited to be here at this point of the year. Acknowledging these seasonal markers in the year by way of a small ritual reminds me of the impermanence of things and the relative insignificance of our short time on this planet. The passing of the seasons can be witnessed more acutely in this vast open landscape where the sky and the sea is much more than the land. After a bit of hunting about, it's not long until I happen upon a huge tub filled to the brim with a medley of unfamiliar mammalian bones, as if manifested especially for my task. I find seal skulls, an unknown pelvis, and an assortment of femurs and begin to construct my Spring Equinox votive on the edge of the shore as an offering to this day of rival light and dark. In my imagination, when darkness arrives and all is asleep, this mythological entity will come to life, rise and dance a merry jig upon the shore until dawn. It will witness the lore of the Sea Mither as her benign force overthrows Teran, the spirit of winter in the struggle for occupancy at Spring Equinox in what is known as the 'Vore Tullye'.

"Bit luck thee niver noo in Vore cinman hear tale o' Teran rampagan' on da
ocean floor, fir folk ir little carin hoo tuyas or brullyas fowt wi' de great sea-mither sword ship gae lordship ta ane or else thee tither"
Old Orcadian Verse (origin unknown)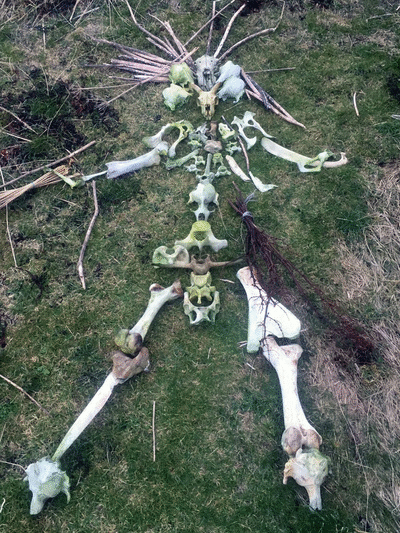 After a breakfast of freshly baked bread with salted Orkney butter and lashings of jam, finally some sunlight beams through the kitchen window. We seize the moment and grab the bolex making our way outside post haste to shoot our first frames. The camera is bulky and cumbersome and we struggle awkwardly as we get to know it's quirks, not really knowing what we're doing. We aim, we point, and we shoot what catches our eye and draws our attention; the miniscule, the overlooked and the spectacular, and hope for the best.

As the day moves past mid point, the sun travels towards the west, tipping the balance of the day away from winter and towards spring at low tide. Bent on swimming in the sea on Spring Equinox, I drag my hesitant companion (a recurring theme) way out across the flat rippled sands. Hanging onto each other like the limpets that sucker the craggy rocks we shuffle over; rocks riddled with shiny, slippery and treacherous seaweed, we head out further still to find deeper water. Once there I begin my selkie transformation slowly peeling on thick, black, protective, rubbery skin. My toes become webbed, my hands like flippers, my eyes bright. It is said that selkies may only transform and shape-shift on significant dates in the calendar year such as the equinox when they have been seen dancing upon the shores. The splintery sea breeze cuts into the only bare skin of my cheeks like a boning knife and I feel it's spiky verge tingling on my skin. I turn towards the ocean and shed seven tears into the swells and swirls of the capacious selkie's lair and slowly submerge into its watery embrace. Selkie men are said to seduce mortal, unsatisfied women and I proceed with anticipation for my own amorous encounter with a selkie man to take me away to his aqueous domain. The watery mass of my own body slipping into the waves. My new black skin glistening as the placid waves swell and slide, taking me in as I tentatively wallow in the waters. Rolling, rising, falling, tilting, shifting, lifting, flying, trying, dying.



"As soon as the seal was clear of the water, it reared up and it's skin slipped down to the sand" George Mackay Brown



Not only is it Spring Equinox but it is also a Super Worm Full Moon tonight. Once dark, the wind rapidly picks up its pace across the ocean and the multi-layered clouds that are dense and black as darkest desires, hot-foot it through the night skies as if running away from winters shivering grip. This colossal moon only briefly peeks through in the early evening, and then all but vanishes when we venture outside for cigarettes later on in the evening. As the door shakes in the wind, the stormy battle clatters as spring takes the reigns laying claim to the new season. Thawing out the winter and bringing forth new growth and new beginnings once again, as before and as it will do again forever.

"The blackness is solid as a stone that locks a tomb. No star shines there. Then begins the true ceremony of the sun, when the one last fleeting solstice flame is caught up by a midnight candle."

extract from

'Maeshowe: Midwinter 'George Mackay Brown

----
THURSDAY 21 MARCH

Ripples in the sand
Old man wind blows a hoolie
Socks wet from the grass

Once more my morning ritual of looking out of the window from the warm comfort of bed out across the front lawn at the long low tide, all rippling sand and distant waters. The room I am staying in is humble with a mattress on the floor, makeshift curtains. Floor-to-ceiling bookshelves are filled with poetry and literature. I read and re-read the Emily Dickinson poem written in white chalk upon the wall:
How slow the wind
How slow the sea
How late their feathers be

I select books of Basho's haikus and short stories from Orkney's most revered poet and writer George Mackay Brown. Local mythology and legend are threaded through his workaday stories and tales of island life and the small communities who work the land portray a hostile lifestyle at the will of the elements and seasons. Fortunes, misfortunes and miscellaneous misdemeanours are rife in a place where everyone knows each other's business and alcohol consumption is the go-to coping mechanism. His stories paint animated and intimate vignettes that tell of the survival and tough resilience of the people of these islands that are all but unrecognisable to the life of a modern city dweller used to a comfortable (and warm) life.

So changeable the weather here, that we have come to realise that we must be ready and prepared to grab the intermittent moments of brightness when it appears if we are to get any filming done. I've gotten used to the process of winding the film onto the camera in darkness and can whip off a reel and on with another swiftly now. My fingers intimately finding their ways around the camera's fiddly mechanisms and rather enjoying the ritual of it. A sudden clear sky encourages us outside and our amenable host humours us by dressing up in handmade masks, and swathed in voile as we direct her to drape herself upon the branches of a small cluster of trees on the grounds of the farm.



After lunch I head out alone for a bird watching trip with the Sanday Ranger for another afternoon of exploring. Meeting at the Islands Heritage Centre, a small group of locals and a few eager tourists clamber into cars to go to one of the most northerly points of the Island. This is the furthest north I have ever been, and the Shetland Isles are the nearest lands north beyond this point, not that I can see them beyond the forever sea. Binoculars at the ready we make our way through the small, rugged sand dunes at the bay of Scuthvie. Down a narrow road we pass a hand painted sign that cautions no vehicles are to pass due to coastal erosion. A bare reminder of the fragile futures of these archipelagos. The ranger points out a bobbing shape far out in the waves - a selkie, at last! I raise my binoculars and search the sea waters to find it's small sweet head just briefly before it dips back under out of sight. It is a blowy and sporadically bright day and the diverse bird population of Sanday are out in their masses. We spot oyster catchers with their distinctive red beaks, throngs of waders, a lone curlew with its peculiar curly beak that makes eating look like a tricky undertaking. A flock of tiny sanderlings with long black beaks casually peck about upon the edge of the shore. Approaching the end of a path with the sea on both sides, an old wellington boot upturned on an old rusty metal pole acts as a marker leading us towards the small tidal island where Start Point Lighthouse stands accessible only at low tide via a natural causeway. Painted in black and white vertical stripes to make it visible in the landscape, it was the first ever Scottish lighthouse to have a revolving light to warn boats approaching through the North Sea. It is high tide now, so we just admire it from a distance enjoying cups of steaming hot sugary tea from the rangers flask. It strikes me how unusual it is not to have seen any other souls other than on this trip; no dog walkers or ramblers on this excursion or any others that I have been on since I've been here. That and the distinct lack of human related debris along the coastline.


As a regular swimmer, I am dying for full water immersion, so in the evening I make my way to the island's swimming pool. A tiny fifteen metre pool, I swim full lengths submerged underwater holding my breath for as many as I can in the 40 minute allotted time. Afterwards in the changing room I am thrilled to meet my first Orcadian, Rona, who tells me that she has been out 'spooting' oday to much success. I discover that a 'spoot' fish is an Orcadian name for a razor clam and for generations, Orcadians have been spooting although it's now a dying tradition. March's large equinoctial tides are the ideal time to hunt out these 'spoot ebbs' as they are also known. At low tide, one must look closely along the coastal edges for small jets of water shooting out of the exposed sand, and aggravate the sand with one's feet to encourage them to poke their tips out. Then, quickly inserting a long sharp knife to trap it, one must then tire it out and stealthily wiggle it up out of its hiding place being careful not to slice your hand open on it's razor sharp edges. A highly skilled art it seems, and not for the impatient. Truffles of the sea, and worth every moment tells Rona. In the changing room, I also meet German Uta, who sits chattering away naked about I can't recall what, and who Rona clearly has little time for, rolling her eyes, dressing quickly and hastily making her exit.
*i later discover this in the Sanday Museum
Back at the farm, a warming stew consumed by the fire, our hosts who have lived on Sanday for twenty years tell tales of their lives here. They tell a gripping, real life modern day folk tale of Black Bob who lived just up the lane just some years ago. The story plays out as a romantic triangular tryst and resulting series of misdemeanours which led Black Bob to kill a neighbour in a drunken fracas. A mournful ending much like one of George Mackay Browns Orcadian tales from yesteryear. The tale shivers my skin as I climb the cold, creaky stairs to bed on this night as dark as shadows. The clandestine moon still shrouded by thick blankets of clouds that dash my hopes of spotting the mirrie dancers often possible to witness at this time of year here.
----
FRIDAY 22 MARCH

Walk upon the water
Bellow low to the ocean
A salty teardrop
Meal times are markers of days that unfold into each other here. Talks of food around the table are followed by trips to one of the two shops on the island where choice is refreshingly limited and exchanges about the weather are customary. A day is spent easily here. Walking, gazing out of windows, writing, reading and idly chatting in a general state of relaxation, not even wondering where the time has gone. And so a new day begins with a tardy breakfast and strong coffee followed by a few more strands of fungi which I vye to remind myself of as the day unfolds this time.
Aware that our time here is soon coming to an end, I make to visit Quoyness Chambered Cairn. My companion looks out at the volatile skies and isn't so keen so I go it alone. This megalithic tomb dates back to the Bronze Age around the third millennium BC and is considered to have been a special place for burials where ceremonies and rituals would be conducted for the recent dead. Lying close to the shore, just above the high-water mark on the peninsula, it is an impressive dry stone monument - a structure about four metres in height. The chamber is accessed by crawling through its long, low, entrance passage, so I abandon my rucsack, unpacking a camera, a sound recorder and some water to take in with me. Gingerly, I get onto my hands and knees and scurry in through its throat, my heart beating loudly in my chest as I emerge into its wide open mouth. To my relief, there is a small glass-covered hole in the top peak of the cairn which lets a streaming ray of light in. The main chamber is a spacious cavern with six smaller chambers opening off from the centre where the bones of the dead would once have been stored. I lie down upon the hard clay floor and close my eyes feeling surprisingly calm and warm, cocooned and held within these walls of the dead. I stay this way for sometime, relaxing into it, thinking about the lives of the people who ended their days here all those millenia ago. How different our lives, like night and day, yet the unknown abyss of mortality connects all us humans past, present and future.
It's oh so quiet it's almost silent and the occasional flutter of something like fear passes through me which I try to override with reason and bravery. Of course it's not really silent though and I think about how in fact we measure and respond to quietness dependent upon context. As a city dweller, the human and mechanical sounds, urban pulse and constant buzz merges into the background becoming an almost comforting sound. One so omnipresent that we do not even notice it after a while of living amid and among it. I think of the countryside as a place of quiet and silence that one can retreat to. Yet in that quietness, small sounds can become big if we consciously tune into it. The muzak of the natural world becomes amplified. The pervasive sound of the sea is the continual hum of the city traffic.
But it's no good, I'm getting cold, and feeling a slight existential pull of aloneness. I start making sounds with my voice which reverberate in echoes around the cave expanding into the corners, cracks and crevices as the dead sing along with me and the isolation begins to dissipate.
I slither my way like a snake who has shed its skin back out through the throat of the cairn and re-emerge into the light at the end of the tunnel as if I have just been given birth to. Spat out anew onto the edges of the shore. I feel giddy and a little bewildered yet luminous and lucid and recall the morning's magic. I topple towards the rocky edge of the shore with the placid waves licking lightly at my feet. I sit looking out into the iridescent waters as dark and intimate as under the covers and want to crawl under and join in. The waves swim tirelessly on as is their want. Bubbles and spray vibrate on and off their tips as the entire ocean repeatedly swallows itself, regurgitating tales of Poseidon and his unruly troop of horses. Or more geographically fitting, Aegir the ship wrecking Norse sea deity. The totality of the gigantic skies above the ocean seem to continue beyond the point of seeing, blending harmoniously into the skies that belong to the next faraway lands. The sea and the sky are way more than the land here, opening up an expansive vista, where even when it is grey and dark there is a lightness to the sweeping landscape and unattainable horizon. Swathes of translucent clouds intermingle in watercolour brush strokes and become one conjoined movement. The flowing rhythm of the sea speaks like music through swelling crescendos and fluctuating cadences generating its own unique aqueous timbre. The arias of Orcadian ancestors are shackled to the crests of the waves with the wind whispering the names of those lost in it as they collide with the rocks.
I have an urge to jump into the waters and swim deep into the soul of the sea but it's cold and I'm unprepared. I love being submerged in water. For it to hold and engulf me. Those short exquisite moments weightless underwater for as long as the breath lasts are so serene. A feeling of freedom that compares to nothing else. Perhaps I would like to drown to my death I muse and think about the ever so brief but formidable feeling of desire laced with abandon, and mixed with terror that I often get at the top of a tall building that I could fall, or jump.
I continue to sit on the rock lost in reverie, revelling in the solitude and tranquility. The coast is the place that I am always drawn to, to unravel, get some perspective, reflect, soothe, invigorate, and exhilarate. To be and unbe in the presence of the ocean. Its swells and pulses of energy lend guidance. The answer is in it's waves and in it's winds. It pulls me into the present reminding me of my insignificance and place in the cosmos as a mere speck of sea spray. In this sense, the sea is numinous and mystical to me and my respect and awe of it is infinite. Its boundless power and potential to overthrow us at any moment and with little warning is both terrifying and mesmerising. It's indifference to our woes, trials, tribulations, successes or otherwise is soothing and brings one back down to earth with a crash, bang, and a gentle, soaked wallop.
I look out to the horizon and think that maybe one cannot really be lost when one can see the ocean from all points. At least you know you're on dry land. Yet the edges are blurred between the sea, sky and land here and I think about Rebecca Solnit's Blue of Distance which I LOVE:
"The world is blue at its edges and in its depths. This blue is the light that got lost. Light at the blue end of the spectrum does not travel the whole distance from the sun to us. It disperses among the molecules of the air, it scatters in water. Water is colorless, shallow water appears to be the color of whatever lies underneath it, but deep water is full of this scattered light, the purer the water the deeper the blue. The sky is blue for the same reason, but the blue at the horizon, the blue of land that seems to be dissolving into the sky, is a deeper, dreamier, melancholy blue, the blue at the farthest reaches of the places where you see for miles, the blue of distance. This light that does not touch us, does not travel the whole distance, the light that gets lost, gives us the beauty of the world, so much of which is in the color blue."
Yet my edges are blurred and I have no suitable words to describe the almost nothingness of colour, shade or tone that I see here.
After several hours wrapped up in a waterlogged world, I walk back across the bumpy shore-edged fields towards the car and fill my pockets with little groatie buckie shells the shape of small [pieces of] pasta on the way. As I walk, the uneven ground suddenly feels wobbly underfoot, my legs turning to jelly so I recline on the soft grass gazing up into a dream world of swirling, fleet-footed, mercurial clouds all darkness, light and some form of something brighter than grey. Just like life is.
En-route back to Stove Farm before sundown, I drive by Kettletoft in the hope of finding some selkies out to play I clamber onto the rocks where they are said to gather. But to no avail so I pop into the island's only pub. In my fantasy I will discover an old man spinning old Orkney yarns in the corner with Orcadian folk songs being sung earnestly in unison. Yet really I know this is a quixotic notion. I enter hesitantly to find a few ordinary folk glugging after work drinks quietly whilst awaiting fish n chip Friday and watching the football on a widescreen tv. I order a coke and drink it up slowly, looking out of the window in one more hopeful glance towards the selkie's rocks.
the tide turns, as
your soul shakes, as
the waves fold, as
your love breaks, as
the winter departs, as
your spirit takes, as
the wind howls, as
your words make, as
the trees bloom, as
your skin shivers, as
the spring takes hold, as
your body aches, as
the breeze blows, as
the sky quivers, as
the sea whispers on your salty breath
----
SATURDAY 23 MARCH
Gloomy grey dishcloth

Somber storm in a teacup

Lost winds wave hello

The penultimate day of our trip, we head out on a final road trip around the island loaded with equipment in a last chance saloon to capture more material. We decide to drive around every road which isn't difficult as Sanday island is just 12 miles end to end with only two main roads cutting through it. We stop at will and at whim, at whatever grabs our attention and takes our fancy, balancing the bolex camera on the dashboard for a jolty on-the-road take. We film some geese bathing in a puddle-cum-lake and do a slow driveby of some vivid yellow lichen clinging tightly to the drystone walls of a dilapidated graveyard. It is an increasingly stormy day. Darkening grey clouds overlap glassy white skies that hang over the dusty fields. In a matter of moments, bright rays of sun appear and quickly vanish behind swift clouds that move in an unsteady rhythm furiously spitting out rain. We make for the car, hunker down, smoke cigarettes and wait for it to pass.



Tales of witches or giants positioning the many prominent monolithic stones in Orkney are commonplace. So we go witch hunting in search of the Stone o' Scar or the Saville Stone as it is also known. Local lore tells that this enormous lump of stone is said to have landed on the north of the island after being thrown from the nearby island of Eday by an irate witch.The tale tells that the witches daughter eloped to Sanday with her lover, but the witch's aim was off and the fleeing couple survived. We pull up nearby where the stone is supposed to be located, pull on our hoods and venture out into the hostile winds. After many lost leaders, we spot it a field away and squeeze ourselves through a gate wading through the soft, sinking, muddy ground towards it. So focussed on not slipping, when we look up we find ourselves faced with a herd of contrary terracotta cows looking our way, ready to canter. I wonder if the indomitable witch embodied them in order to protect her stone and we turn back quickly, squelching our way back to the car.

We drive off the main roads down a rocky lane towards the east of the island where the long vast sandy beaches stretch out beyond meandering, grassy sand dunes. We try to make it down onto the beach and I pull up a fence rope for my companion to clamber under and get an electric shock down my right arm so we abort our mission.

It is so incredibly windy with persistent gusts whipping at our skin, our fingers quickly become numb as we try to operate the camera. One of Orkney's distinctive traits are its wild and wilful winds which are commonly of gale force strength. This wet and windy climate is heavily influenced by the sea which brings stark consequences for the land. A mainly treeless, flat topography, the wind unfurls itself across the land effortlessly carrying salt from the sea with it upon its breath scorching the earth so only the truly tenacious can grow and survive on this land. There is little evidence of crofting here now, whereas once this small-time farming of crops and livestock would have been the main Orcadian occupation before new ways of earning money arrived on the Islands and people began moving away onto the mainland. I have seen little in the way of flora during my time here aside from grasses and hardy native beach plants. Yet a combination of pollution-free air actually makes a diverse natural habitat of around 500 native plants across Orkney's Islands including the tiny rare Primula scotica [primula scotica] or Scottish primrose. At this turning point of the seasons I am sad to be missing out on the coming months growth.

A final pit stop further along the coast leads us up towards an impressively tall peaked cairn, much larger than others I have seen, perched upon the edge of the coastal cliff, once possibly acting as a landmark for ships. We are nearly blown off our feet as we walk up to the edge and the sky darkens like an ominous monster bearing down upon us as the rain plummets down. The all masterful elements are out to play and they are winning the game today.





Your landscape is not mine
And neither yours mine
Yours is for you
And mine for me
Yours may be a tree
Mine a thistle
Yours the deep sea
For me the debris
You the expanse
Mine the minutaie
You a rain dance
Mine the memories
For you it's a rock
For me it's the grass
In awe of a flying flock and the livestock
You're drawn to the river
And me to the sea
You're at one with the wind
As I am a warm breeze
Your delight at a valley
Mine at a ravine
Climbing a hillside or
Sliding down sand dunes on lingering afternoons
What echoes for you may also for me
You the dark
Me the light
Yours the land
Mine the sky
Together in it all we lie
----





SUNDAY 24 MARCH


The wind has its way
Like long lost hostages, we
Stay another day



After the last of our Sanday morning rituals, we begin the process of gathering our belongings in preparation to take the ferry to the mainland in the afternoon to begin our journey back home, and down south to the city. The storm is still brewing and its winds batter their way around Stove Farm, clanging and banging everything in its wake. We continuously check the weather app, the Sanday Facebook page and the ferry WhatsApp group to cover all bases but no cancellation announcements appear.

We while away the remaining hours in our host Rosey's studio making monoprints as I record her talking about her many projects and artworks. One being the Gardemeles Museum - a work in progress archive of objects and discoveries from former residents of Stove Farm. A cat mural on the staircase a homage to former resident Helen Scott and the 40 or so cats that lived with her until she left in 1995. For the past year, they have been keeping a Climate Change Report - a present day juxtaposition of the Diary of Patrick Fea of Stove, Orkney, 1766-1796. The original diaries and daily reports by Fea, a wealthy farmer occupying Stove Farm, offer a rarefied insight into the living, working and weather conditions of this place 250 years ago. Fea factually documents his daily climate based reports; observations of the weather and farming activity along with a daily wind reading. The Gardemelis report follows suit with daily reports aligned to the calendar year of 1768 with the addition of a daily photograph which wouldn't have been an option for Fea.





After a final cup of tea beside the fire, we make our way down to the harbour in the punishing wind and moody skies, not much looking forward to a choppy crossing. As we pull in, it looks suspiciously quiet with no soul to be seen. The ferry does not appear so we head back to Stove Farm for another night, re-arrange our travel plans and have an early night.


----




MONDAY 25 MARCH


Six brothers stand tall
Giants cast down by witches
Take me to Eden



A bonus day. I rise early to take the first ferry to Kirkwall on Orkney mainland to do some more exploring, leaving my companion to meet me there later on. Aboard the ferry I imbibe some final magic. A bit more than before on my quest to get cosmic with some magical stones and maybe even meet some wizards. The wind has strangely died down almost completely now and the crossing is smooth as we move through the calmed dark waters away from Sanday. The spring has finally won its hardened battle against winter. Alighting the boat on Orkney Mainland, I walk through the harbour and wander slightly aimlessly around the cobbled street of Orkney's small capital and largest town and decide what to do with my extra day. As I walk, my legs begin to feel wobbly, a familiar feeling from my day in the chambered cairn. Suddenly a bit overwhelmed and all a bit jittery, I make my way to St Magnus Cathedral that dominates the skyline of this quaint town for a bit of quiet to gather myself. I like to visit churches when in unfamiliar places to look at the architecture and just sit in silence. I always light a candle for my only religious friend who endures the subjugation of a traditional catholic background. As an atheist the incongruity of this action is not lost on me. I hope to find some pews for a covert lie down, but discover only rows of chairs so find a quiet corner and sit down, spreading my belongings about me. A church helper appears and I realise that I am sat by the confessional booth. My horror at the thought of divine divulgence entertains me in my current heightened state. After a good while, I do my best to compose myself and I'm ready to leave. Walking out through the central nave I spot a curious, ghoulish painting and several sandstone carvings of a Green Man.

The Orkney Isles are a hotbed of megalithic standing stones so I take a pilgrimage to see some. Boarding a local bus that drops me at a crossroads in the middle of nowhere the driver points me in the right direction. It's windy and overcast once again so I pull up my hood against the elements. As I walk down the lane my ears tune into a peculiar unfamiliar sound that doesn't seem to belong in this landscape. I stop, looking about near and far to seek out its origin and eventually discover a tiny microphone and speaker embedded within a hollow fence post. The howling wind passes back through the mic whirling about in the vacant space within the post where the speaker emits deep, bellowing whistles. I am thrilled to have come across this, and wonder who put it there and why they did so. I stand fascinated, covering and uncovering the hole with my hands and arms to manipulate the sounds emanating from it creating my own composition for the stones I am on my way to visit.

The Standing Stones of Stennes are breathtakingly impressive megalithic stones rising six metres tall, proud out of the ground like huge shards of ice. Four stones form an almost semi-circle yet it is commonly thought that the monument was once made up of twelve stones. The site dates from around 3000BC, making them one of the earliest stone circles in Britain. They are also known locally as 'The Temple of the Moon'. One historical account of ceremonial and ritual lore tells that during five days of New Year feasting, lovers would visit the Standing Stones, whereupon the women would kneel and pray to the god Odin that they may keep the oaths they were about to swear to their beloveds. I'm soaking up the sacred vibes, and walk a full circle around the stones laying my body full against them. Marvelling at the sheer enormity of these ancient monuments so arresting in the landscape they seem entirely otherworldly. It seems fitting that I have consumed the hallucinogens that modern megalithic antiquarians, solstice ritual hunters and ravers alike favour to bring them closer to ones ancient ancestral roots.



Walking alongside the Loch of Stenness I head towards the Ring of Brodgar. Lore has it that a group of fearsome giants once gathered in this field to dance and were having such a good time that they forgot how quickly the night was passing. As the morning sun crept into the sky the dancing giants skin transformed into cold, hard stone and their gigantic petrified bodies remained, frozen rigid forever in the circle which they danced. Erected in a true circle, and over 100 metres in diameter with 27 stones, this stone circle is thought to have originally contained 60 individual stones. The third largest stone circle in the British Isles, it is a truly dramatic monument that takes ten minutes to walk around the perimeter pushing against the wind.

With only one bus every two hours and a long walk back to the cross road, I make haste and stand shivering in the half light to return to town wondering if it's already passed. It's been a long, full day, I've walked far, my senses have faded and I'm weary. With a grumbling stomach I devour some warming winter soup with double helpings of rough tattie scones in a cafe-cum-gift-shop and wait for my companions ferry to draw into the harbour. We take a bus to Stromness harbour, and half-eat a revolting dinner of sloppy stew and soggy chips at the Ferry Inn and check-in to our accommodation - a cabin aboard the great Hamnavoe ferry that will take us back to the mainland at first light in the morning without even having to get out of bed. We head to the lounge for free tea and stale nibbles before closing in for the night, our Orkney adventures drawing to a close, our voyage all but over, our trip concluded. My selkie quest failed, at least until I return again. And with that I close my eyes and bid to dream of them instead for now.



----



Thanks to Rosey and Brendon for their generous hospitality at Stove Farm enabling this trip to happen, and to my intrepid travel companion Snoozie, and Phil Owen for his support and encouragement.